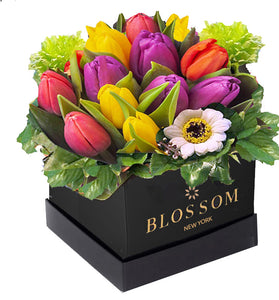 Custom Birthday Gift Box, Gift Ideas, Happy Birthday Gift Box, Happy Birthday Gift Basket, Birthday Gifts Ideas, Birthday Gifts For Her
Can you believe all these flowers are made from soap?

A delightful arrangement of soap flowers that your loved one will cherish on their special day. Whether it's a birthday gift, anniversary gift, mother birthday, sister birthday or friend birthday.

The flower gift box has color that include orange, pink, red, or lemon/lime with tulips . All presented in a beautiful brown gift box.

Each soap flower can be taken apart and its pedals used as scented soap. Pedals can be sprinkled into a warm bath or used to decorate a sink as hand soap.


Scented Bath Soap Petals
-All natural bath soap petals for hand washing or bathing.
-Free of artificial colors or dyes. Formed with all natural ingredients.
-A perfect gift for the special one in your life or yourself.

Usage:
Soap Petals can be used for hand washing, bath.
Put the flowers of a little (1/3-1/2) into the palm, rub with water to bubble, wash your hands.
Use 5-9 flowers in a bath tub, when dissolve it completely, you can enjoy a romantic bathing.
Birthday gift, Birthday gift for her, Best Friend Gift, thinking of you, gift for women, sister birthday, friend birthday