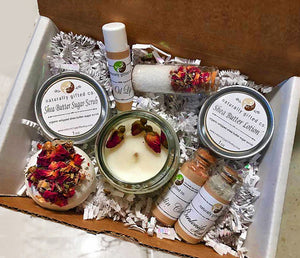 Every year, when a special birthday comes up or just a special gift, we like to show how grateful we are that all those years ago, something great happened: they were born.
Whether it's a birthday gift for Mom, sister or friend it will be an extra special relaxation Sampler.
We have put together a beautiful sampler of our most popular products.
Inside this sampler is:
1 oz shea butter lotion
1 oz shea butter sugar scrub
Vial of red Pink French Face Mask
Vial of Bentonite Cleansing Face Mask
Vial rose & Bath salt
Rose top Bath Bomb
Rose Top Candle
Healing Coconut oil Lip Balm