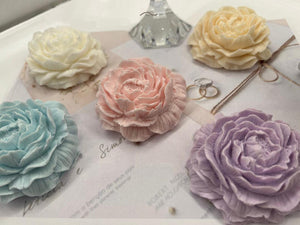 This gorgeous peony candle in color options is made of all natural soy wax.
Handmade with love in New York Each candle is sure to inspire and energize while bringing warmth, inspiration and coziness into the home. Perfect for any occasion- bridesmaid proposals, housewarming, baby shower, birthday, holiday or treat yourself!-
Peony candle is unscented, made out of natural soy wax, and is intended for home decor, however, feel free to light it up on a heat proof plate or surface, we are not responsible for any injuries or damage once candles are used.
These candles are mainly for decorative use, but if you choose to light your candle, burn it on a protected surface because there is no base to this candle.
Melt this candle into a safe container, or base so that the wax pools safely.
Color may slightly vary
100% Cotton Wick
*Handmade
*Weight 2.7 oz * *Wax type: Soy
*Width: 3 inches
*Height: 1.5 inches
CARE AND MAINTENANCE
**Wick position has been offset from the center in order to avoid burn on flowers. Decorate can be easily removed with tweezer if needed**
Trim wick to 1/4" each time before lighting.
Always place your candle on a fireproof surface or holder.
Never burn a candle completely and dispose of it when it burns to within 1/2" of its base or the holder.
Never leave a burning candle unattended.
Return Policy
Please understand we do not accept returns or exchanges unless your order is damaged upon delivery. In the unfortunate case that your item(s) arrive to you damaged, please contact us within 7 days of receipt to arrange a replacement or credit.
Whether it's a Birthday Gift for Mom, gift for girlfriend, Sister or Best Friend Birthday, it will be extra special.